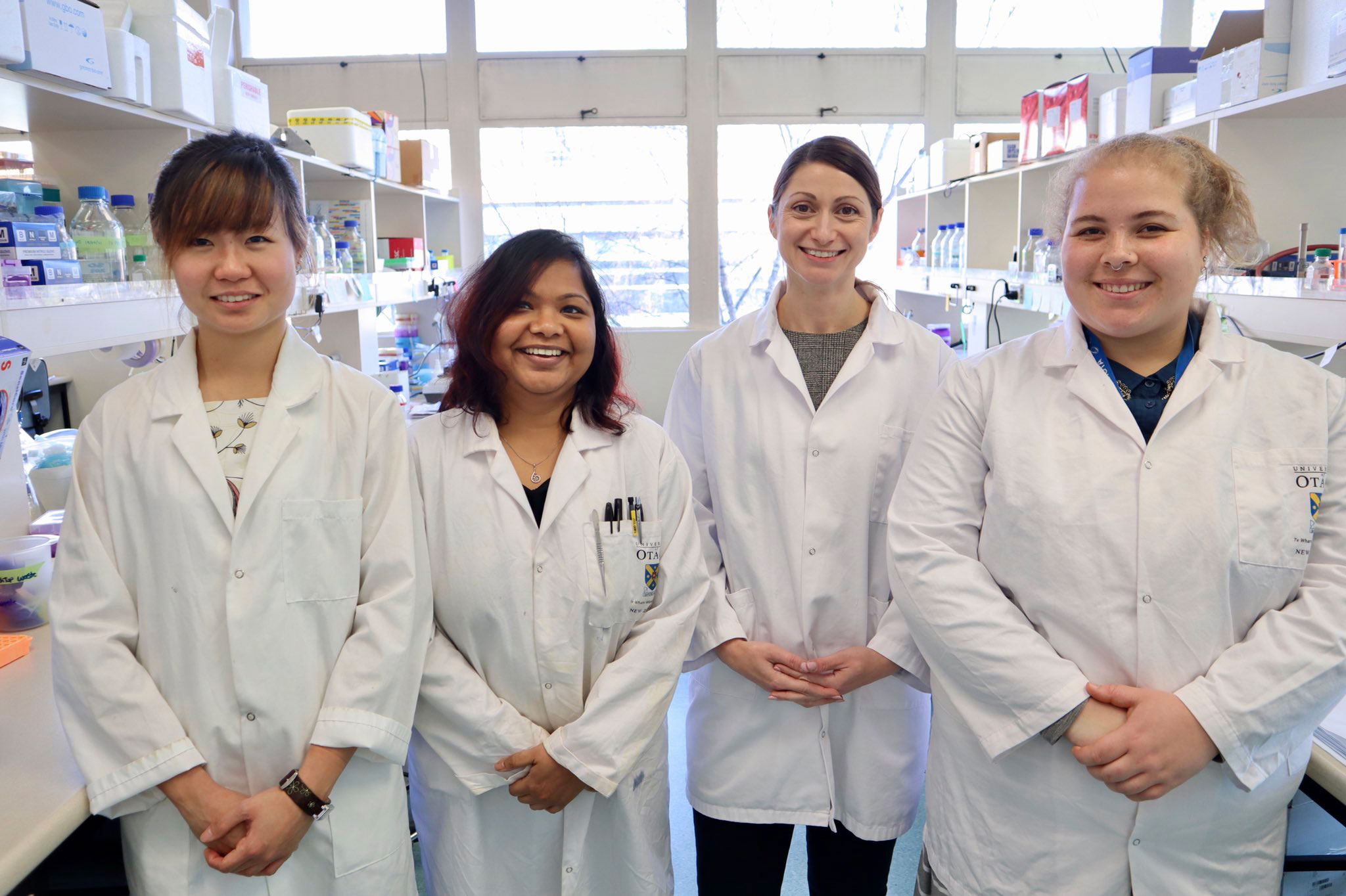 Jolyn Chia (Senior Scientists in vitro), Dr Debina Sarkar (Scientific Officer), Dr Sarah Diermeier (CSO), Ginny Niemi (Senior Scientist in vivo).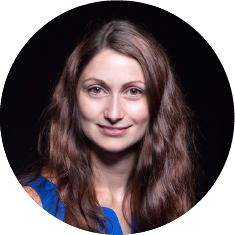 Dr Sarah Diermeier
Chief Scientific Officer & Founder
Dr Sarah Diermeier is Chief Scientific Officer and Founder of Amaroq Therapeutics, responsible for leading the research that Amaroq's technology is based on. She is also a Principal Investigator   in the Department of Biochemistry at the University of Otago, with an interest in identifying novel therapeutic targets for cancer, and a Rutherford Discovery Fellow of the Royal Society Te Apārangi.
Dr Diermeier has extensive experience in the study of lncRNAs in cancer, having undertaken post-doctoral studies under Prof David Spector of Cold Spring Harbor Laboratory (NY, USA), an expert in lncRNA research. As part of this, she established computational and experimental pipelines to identify and characterise lncRNA drivers in breast cancer. She has collaborated with Ionis Pharmaceuticals to develop lncRNA-targeting ASOs and studied these new drugs in vitro in primary cells and organoids and in vivo in mouse models. Her previous work lead to the identification of >30 clinically actionable lncRNAs in breast cancer and several high impact publications (including in Cell Reports, Genes and Development, and Nature Communications).
Dr Diermeier received her PhD in chromatin dynamics and genomics in 2013 from the University of Regensburg, Germany. From 2013-2018 she conducted research at Cold Spring Harbor Laboratory, NY, USA. In 2016, she was awarded a Susan G. Komen postdoctoral fellowship, and in 2017, a K99/R00 Pathway to Independence Award by the United States National Cancer Institute (NCI/NIH). Dr Diermeier rescinded this prestigious award in 2018 to move to New Zealand, where she started her own independent research group at the University of Otago. The overarching questions of her research are to identify novel therapeutic targets in cancer and to elucidate the genetic and epigenetic mechanisms of cancer gene regulation. Due to her outstanding success in research, Dr Diermeier recently received an Early Career Award for Distinction in Research from the University of Otago.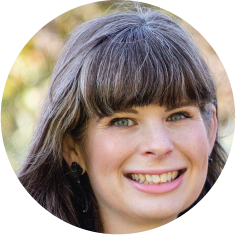 Dr Nadine Brew
Operations Manager
Dr Nadine Brew is a Portfolio Manager at Brandon Capital Partners, delivering operations and corporate services to their life science portfolio companies. She has strong experience in biotechnology operations and management spanning senior roles in industry, health charity, hospital and university settings. She has led a range of commercial deals, industry engagement and partnering programs to progress the pre-clinical and clinical development of academic research.
Dr Brew has over a decade's laboratory research experience in Australia and the US with a PhD in developmental physiology from Monash University, during which she was the recipient of an NH&MRC postgraduate scholarship. In her postdoctoral studies investigating neurodevelopment and brain injury in preterm infants she received a Churchill Fellowship and spent time at Children's National Hospital in Washington DC. 
Dr Brew's research commercialisation experience includes roles as Business Development Manger at Hudson Institute of Medical Research and with Monash Innovation. She is co-founder of an executive STEM women's leadership program, is a graduate of the Australian Institute of Company Directors and has been an observer on numerous boards.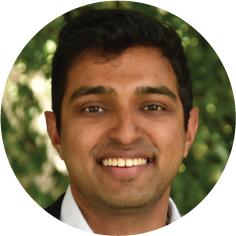 Dr Zohaib Rana
Project Manager
Dr Zohaib Rana is a Project Manager and Research Scientist with Amaroq Therapeutics. Dr Rana has a BSc(Hons) in Biomedical Sciences from the University of Sheffield, England, an MSc in Molecular Pathology & Toxicology from the University of Leicester, England and a PhD from the University of Otago, New Zealand. His PhD studies focused on characterisation and testing of novel HDAC inhibitors in castration resistant prostate cancer. Through his PhD, novel and more selective HDAC inhibitors that reduced cancer growth and metastasis were discovered. 
Prior to his PhD, Dr Rana gained experience as a research and teaching technologist at the Aga Khan University, Pakistan, where he contributed to multiple research projects (including: repurposing drugs for the treatment of prostate cancer, discovery of novel pathways in acanthamoeba castellanii and the role of vitamin D in fertility).
Additionally, he was a part-time journalist and participated in various public health projects, such as the emotional wellness of university students and the role of stethoscope hygiene in the spread of bacterial infections. Dr Rana has published 20 peer reviewed publications to date.
Duncan is a Senior Investment Manager with Brandon Capital Partners, Australia and New Zealand's largest life-science VC, and manager of the Medical Research Commercialisation Fund (MRCF). A veterinarian by training, Duncan spent 5 years in clinical practice including leadership roles during the 2001 foot and mouth outbreak in the UK. Duncan joined Brandon Capital in 2016 to manage the New Zealand operations following 15 years in R&D commercialisation and early stage venture, most recently with five years as CEO of University of Waikato (NZ) commercialisation company WaikatoLink. An experienced Founder and Director  he is currently on the boards of Cadmus Animal Health Ltd, Amaroq Therapeutics Ltd, and TamoRx Ltd.
David is the CEO of Otago Innovation Limited, the University of Otago's commercialisation company. He is an experienced commercialisation professional with extensive expertise in finance (including 13 years banking and finance) and with degrees in marketing and management. He has also held directorships for a portfolio of deep tech start-up companies since 2014, and is a member representative on the Medical Research Commercialisation Fund investment committee and Return on Science Biotech and Pharma investment committee.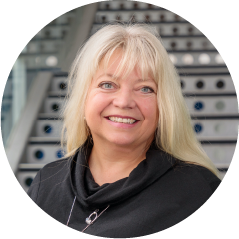 Dr Alex Tickle is a Director on Amaroq Therapeutics' Board. She is an experienced commercialisation professional for Otago Innovation Limited, trained as a Chemist and headed Product Development and Marketing for Neuraxpharm before joining Otago Innovation in 2003. She has over 8 years governance experience and was recognised by the Institute of Directors Otago Southland as the runner up to the Emerging Director Award.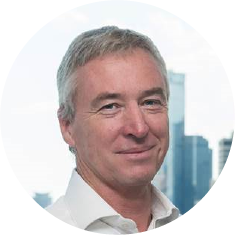 ALSO MEMBER OF SCIENTIFIC ADVISORY BOARD
Dr Kearney holds an MBA from the University of Sydney and completed his PhD in genetics at Monash University. Dr Kearney was previously the key scout for innovative research and development in the Asia Pacific region at Merck Sharp & Dohme. As head of the External Licensing group at the company's APAC office in Sydney, he liaised with regional biotechnology companies and research institutes to look for new chemical and biological entities with therapeutic potential, validated drug targets and new platform technologies. Significant publicly disclosed deals in which Dr Kearney was involved include the license to Vaxxas patch technology for vaccine delivery, and the license of the Bionomics alpha 7 PAM for cognition, as well as a series of academic partnerships totalling almost $2 billion.
SCIENTIFIC

ADVISORY BOARD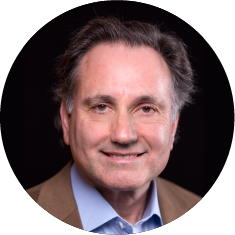 David L. Spector, Ph.D., is a Professor and Director of Research at Cold Spring Harbor Laboratory. He is co-leader of the Gene Regulation and Inheritance program of the National Cancer Institute designated Cold Spring Harbor Laboratory Cancer Center. Spector is a pioneer in unraveling our understanding of the inner workings of the cell nucleus. His research centers on elucidating the organization and regulation of gene expression in living cells and identifying and characterizing long non-coding RNAs as potential therapeutic targets involved in breast cancer progression. Spector has co-
edited numerous microscopy techniques manuals and a treatise on The Nucleus that are used in laboratories throughout the world. In 2014 he was elected to the American Academy of Arts & Sciences, and as a foreign Associate Member of the European Molecular Biology Organization. In 2017 he was elected a Lifetime Fellow of the American Society of Cell Biology for Distinguished Contributions to the Advancement of Cell Biology.
Anna Marie Pyle is the Yale Sterling Professor in Molecular, Cellular and Developmental Biology and Chemistry, and she is a Howard Hughes Medical Institute Investigator. After graduating from Princeton University, she received a Ph.D. in Chemistry from Columbia University in 1990, with Professor Jacqueline Barton and conducted postdoctoral research with Thomas Cech at
the University of Colorado. Dr. Pyle formed her own research group in 1992 in the Department of Biochemistry and Molecular Biophysics at Columbia University Medical Center. In 2002, she moved to Yale University, where her group specializes in determining the structure and function of large RNA molecules and associated protein enzymes. Her projects focus on RNA
molecular recognition by small molecules and proteins. The Pyle laboratory selectively targeted an RNA tertiary structure de-novo for the first time, leading to a new family of potent antifungal drugs. The Pyle lab continues to develop strategies for the pharmacological targeting of long noncoding RNAs in pathogens and vertebrate animals and they are developing pipelines for the discovery of functional RNA substructures within the genomes of RNA viruses. Dr. Pyle is Past- President of the RNA Society, she is Vice-Chair of the Science and Technology Steering Committee for Brookhaven National Laboratory, and she is on the scientific advisory board of Arrakis Therapeutics and RADD Pharma. Dr. Pyle is the author of over 200 publications and has mentored more than 60 graduate students and postdocs.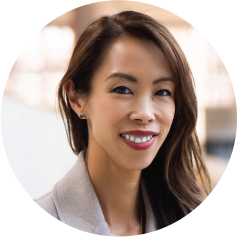 Professor Sherene Loi is a Medical Oncologist specialized in breast cancer treatment and Group Leader at the Peter MacCallum Cancer Centre, Melbourne, Australia. She is recognized internationally as a leading clinician scientist whose work has led to new insights in the breast cancer immunology field, including an immune biomarker and formation of the TILs international working group. Professor Loi's research is highly cited – she is ranked in the top 1% of highly cited researchers globally by the Web of Science since 2018. She co-chairs the International Breast Cancer Study Group (IBCSG) based in Bern, Switzerland, which conducts breast cancer clinical trials in over 16 countries. She is the current holder of the Inaugural National Breast Cancer Foundation (NBCF) of Australia Endowed Chair and a research fellow of the Breast Cancer Research Foundation (BCRF), New York. In 2020 she was awarded one of the Prime Minister's awards for Science.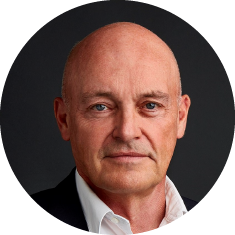 Henrik Oerum, Ph.D., M.Sc.
Dr. Ørum, brings more than 25 years of experience in every aspect of creating, building, leading and exiting successful biotechnology companies.
Dr. Ørum started his biotech career at PNA Diagnostics A/S in 1993, serving as chief scientific officer from 1993 to 1999. During his tenure, the company was sold to Boehringer Mannheim in 1994 and later to Hoffman-La Roche in 1997. In 1996, Dr. Oerum cofounded Exiqon A/S, a nucleic acid diagnostics company that was listed on the Copenhagen Stock Exchange in 2007. In 2000, he co-founded Santaris Pharma A/S, where he served as chief scientific officer and vice president of business development until the company's acquisition by Roche in 2014.
Following the acquisition, Dr. Ørum worked for Roche Pharma as global head of RNA therapeutics until March 2016, when he left to pursue new opportunities. In 2017 Dr. Ørum founded CiVi Biopharma Inc, where he serves as Chief Scientific Officer. Dr. Ørum holds an M.Sc. in genetic engineering from the University of Natural Sciences in Copenhagen and a Ph.D. in molecular biology from the Medical University of Copenhagen.
Following his PhD, he did a Post.Doc at the Pharmaceutical University. He is the author of more than 70 peer reviewed publications and numerous patent applications.